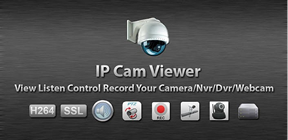 Excellent IP Cam Viewer supporting over 800+ systems with a complete list of supported devices, be sure to check it out before your purchase.
You can remotely view and control all your IP Camera's, DVR (Digital Video Recorder), and NVR (Network Video Recorder) using your Android, IPhone and BlackBerry devices. Another nice feature is the ability to view Traffic cam's before heading out.
Sample Video:

"Supports SSL, H.264, 2-way audio on some cameras for baby monitoring, pan/tilt, optical zoom, presets, relay control and digital pinch to zoom.
Has in-app upgrade for Record Mode which turns any spare Android device into a solid state, battery backed network recorder for your standalone IP cameras. Allows playback, search, and export to video clip."
Supports
- SSL encryption for privacy
- RTSP, h.264, MPEG4 support
- two way audio (after upgrade)
- pan tilt and zoom (PTZ)
- preset recall
- relay to control things like lights and garage doors
- custom controls like patrol (varies with various models)
- home screen widgets
- matrix view, gallery view, and auto sequence mode
- double tap for digital zoom using pinch to zoom
- grouping of cameras to organize and for quick recall.
- Export / Import and sharing of cameras
- browser integration
- app password to protect access from others
- 24/7 recording of cameras
- scan camera capability
- auto sequencing of cameras and groups"
The free version has the ability to monitor a couple of camera's where as the pro version has the ability of managing as many as you would like at a cost of $3.99
IP Cam Viewier Lite (free, 2 camera views)
Created by: Robert Chou