KeePass
Everything we do on the internet or on our computers requires a password, and a lot of them tell us how we must create our passwords which is even more frustrating. I have several dozen passwords and remembering them all is close to impossible. A lot of times we only get a few tries before being locked out of a site because of incorrect entries. Nothing makes it worse than having to call your mortgage company to reset your password, which really defeats the purpose of using the internet to simplify the payment process. I know of people who have notebooks with all their passwords written down. Which is even worse, your password exposed to anyone who stumbles upon this book. KeePass is a free, open source, light-weight and easy-to-use password manager for Windows, Linux, Mac OS X and it also works with most mobile devices. Operating System Requirements: Windows 98, Windows 2000, Windows Me, Windows XP, Windows Vista, Windows Server 2003, Windows Server 2008, Windows 7
Today you need to remember many passwords. You need a password for the Windows network logon, your e-mail account, your website's FTP password, online passwords (like website member accounts), etc. etc. etc. The list is endless. Also, you should use different passwords for each account. Because if you use only one password everywhere and someone gets this password you have a problem… A serious problem. The thief would have access to your e-mail account, website, etc. Unimaginable.
KeePass is a free open source password manager, which helps you to manage your passwords in a secure way. You can store your passwords in highly-encrypted databases, which can only be unlocked with one master password. So you only have to remember one single master password or select the key file to unlock the whole database. The databases are encrypted using the best and most secure encryption algorithms currently known (AES and Twofish).
KeePass is really free, and more than that: it is open source (OSI certified).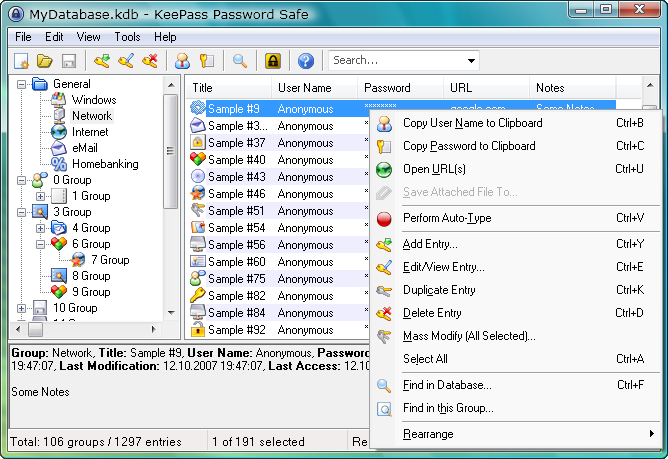 You Can download from The official website of KeePass, the free, open source, light-weight and easy-to-use password manager.