Microsoft Security Essentials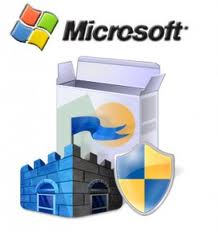 About Microsoft Security Essentials (their claims)
Microsoft Security Essentials provides real-time protection for your home or small business PC that guards against viruses, spyware, and other malicious software.
Microsoft Security Essentials is a free* download from Microsoft that is simple to install, easy to use, and is automatically updated to protect your PC with the latest technology.
Microsoft Security Essentials runs quietly and efficiently in the background so that you are free to use your Windows-based PC the way you want—without interruptions or long computer wait times.
Before installing Microsoft Security Essentials, we recommend that you uninstall other antivirus software already running on your PC. Running more than one antivirus program at the same time can potentially cause conflicts that affect PC performance.
Read the Microsoft Security Essentials Privacy Statement and License Agreement.
Avast! Free Antivirus 6
About Avast (their claims)
Our avast! Free Antivirus often outperforms our competitors´ paid-for products and is the minimum protection anyone should have against viruses and spyware.
* avast! Free Antivirus is free only for personal and non-commercial use. Home use only!
* Requires registration and has tricky download tactics where a novice user can be tricked into purchasing full version or other types protection. CLICK HERE TO INSTALL

AVG Antivirus Free Edition 2011
Antivirus Free is perfect if you use your PC for casual surfing, searching or social networking.
Internet Security 2011 is essential if you bank and/or shop online. It comes with a firewall that blocks all attempts to sabotage your system, as well as AVG Identity Protectionâ"¢ which shields your passwords, credit card numbers and other private information from online predators.
* I have numerous people mention that removal of AVG once installed is real pain